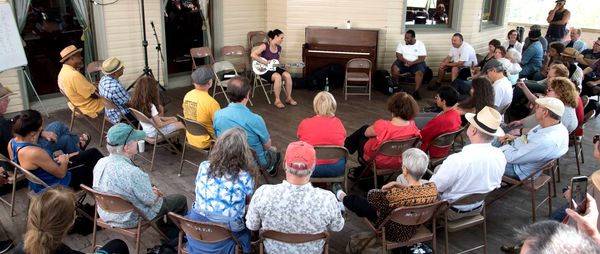 Playing a song for the enthusiastic crowd at Blues & Swing Cultural Session: New Blues. Photos by Augusta Heritage Center.
What a week! I just got home from Augusta Blues & Swing Week, at Davis & Elkins College in Elkins, West Virginia. It was a wonderful week, full of kindred spirits of blues, swing and roots music, despite a broad diversity of backgrounds, ages, races, even political leanings. We all came together for a magical week of music and came away inspired. Here's my wrap up of my first time teaching at Augusta Blues & Swing Week!

Let me first say that this is one very special place. The Augusta Heritage Center was created to keep traditional music, folklife and folk arts alive, and is doing a great job if you ask anyone I met at Blues & Swing/Old-Time Week. It is a place for people who want to get involved in the music, and it's very hands-on. During their week-long workshops you can study an instrument or learn a new one, learn about different styles of singing, ensemble music, dance, and traditional folk arts. Blues classes cover a variety of styles and levels of instruction on guitar, bass, piano, harmonica, accordion, percussion, dance and voice, as well history. Evening activities include legendary late-night jams that go to the wee hours that include pretty much everyone who wants to join in, and nightly dances at their beautiful old-style outdoor bandstand. Tuesdays and Thursdays the local Elkins community comes down for evening concerts featuring the many talented instructors who are in town for the week. If this sounds interesting to you, go to their website and browse the different workshop weeks (including Blues & Swing, Old-Time, Cajun/Creole, Classic Country and Bluegrass). This year Blues & Swing Week happened simultaneously with Old-Time Week, so there were workshops on traditional acoustic blues, swing, and also old-timey music. There was a whole lot of fiddlin' around every corner, and a fair amount of banjo'in' goin' on, and of course lots of old time blues as well, the kind you won't always see at most blues festivals these days. Pretty much all the instruments on campus were acoustic (note to self: bring my National next year!). The week really brought me back to my roots – hearing so many songs I grew up hearing and learning from my dad as well as long-time instructor Eleanor Ellis. It was also great to re-connect with some of the people involved in Archie's Barbershop and the Washington Folk Festival (where I watched great local performers like Eleanor Ellis, Phil Wiggins, John Cephas, Archie Edwards, John Jackson, Warner Williams, my dad's band Franklin, Harpe & Usilton and many more) and got my feet wet as a kid in the local DC acoustic blues scene. But Blues & Swing Week also took us all back much farther with presentations on the history and implications of blues music as well as discussions and presentations on dance, songwriting, instrument making and other folk arts.

The second thing I loved about Augusta's Blues & Swing Week was the community of teachers and staff. The program is run by world-renowned harmonica player (singer/songwriter/etc., I could go on...) Phil Wiggins, along with the wonderful Joan Fenton (musician and folklorist) – they do a great job and have kept it going for over 30 years! They choose teachers who are some of the finest performers and educators in the Blues and Swing worlds, and also happen to be some of the most open, fun loving and sharing people I've ever met. There was a great sense of kinship, among the teachers as well as the students. From the first moment we were together at orientation Sunday night to the last jam Friday, we all made many friends and had lots of fun in the process. I loved seeing so many styles and interpretations of acoustic blues on display and being taught: Piedmont, country blues, delta blues, slide, swing – and that's just the guitar! There were over a dozen fabulous guitar instructors teaching various levels and styles, so I won't name them all, but here's a few – young bloods Jontavious Willis (just off tour w/Taj Mahal and Keb Mo!), and Justin Golden; guitar gals Valerie Turner, Eleanor Ellis, Shari Kane, Del Rey and Cyd Smith (my friend Miss Tess was there as well as a vocal instructor!); and also fellow New Englander Samuel James – just to name a few. There were multiple fantastic harmonica instructors, piano instructors, bass, percussion (pizza box), as well as dance and I was very surprised to see they included an expert New Orleans accordion player named Sunpie Barnes (Sunpie & the Louisiana Sunspots) – go check him out! Check them all out!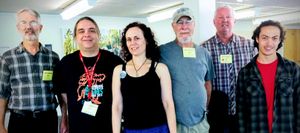 Thirdly, and most importantly, I LOVE the student participants at Augusta Blues & Swing week! I want to thank everyone who signed up for my classes!! It was my first time teaching in this format, so I was learning from them while they learned from me. Coming from many different parts of the country and the world (I had a conversation with one student from Germany!), we all had something in common: the music! Specifically pre-war acoustic blues, swing and old-timey music. It was fun to find people who spoke the same language, or were learning to, and had a love for this very particular kind of music that I happen to have grown up with and love. I made so many friends, many more than I ever would in a typical week! Here's a quick snapshot I took with of few of my students. Hope to see you all again next year!
If you want to feel the experience, check out all the great live VIDEO FOOTAGE that Jim Countryman captured over at our Facebook video page! Videos feature performances and jams including many of the artists from Blues & Swing Week that I talked about above!
And if you haven't been yet, I hope some of you will check out the Augusta Heritage Center's website and consider coming to Blues & Swing Week next year! With any luck I'll be there next year too!