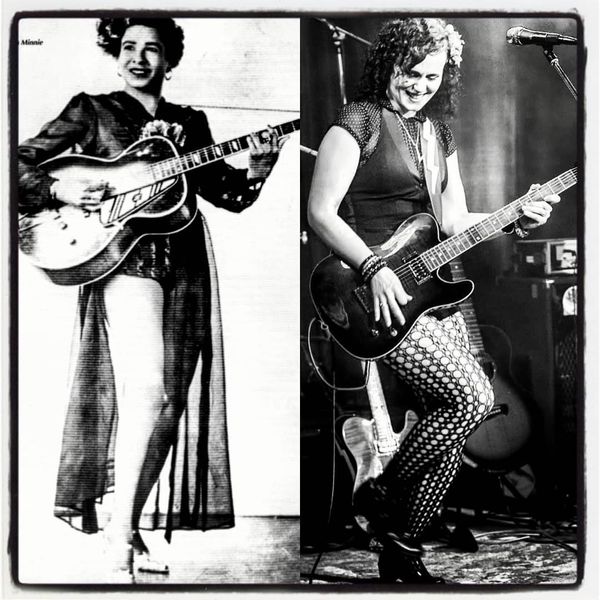 Photo (right) by Dan Busler Photography.
I could almost say Memphis Minnie was the reason I took up the guitar, she was such a big influence on me (though I had plenty of living inspirations as well). I grew up surrounded by vintage 1930's acoustic blues. My dad (Neil Harpe) did his own versions of many amazing blues artists, from Mississippi John Hurt to Tommy Johnson, and Geeshie Wiley to Memphis Minnie. I soaked it all in. I tagged along with my dad at events around the Washington DC area, where local luminaries like John Cephas and Phil Wiggins, Warner Williams, John Jackson, Eleanor Ellis, and my dad's band Franklin, Harpe & Usilton would perform. The songs that stood out to me the most were those of Memphis Minnie, and I immediately fell in love with the "Queen of the Delta Blues", with her cool delivery, songs of a different era (but from a feminine perspective!), and her obvious talent on the guitar. When I was a teenager, sometimes when I was alone I would try to sing like her, and I would also try to learn her guitar parts (usually simpler versions!). Her songs were so interesting, about life in the 1920's and 30's in the south, with great attitude and a sense of humor. Some of my favorites were What's the Matter with the Mill (Done Broke Down), When the Levee Breaks, Nothin' in Ramblin, Can I Do It For You, In My Girlish Days, and her classic Me and My Chauffeur Blues – which was one of the earliest songs in my repertoire. In fact, we still play that one as well as Girlish Days in our set today! 
Memphis Minnie was a real badass! In a time when women were encouraged to stick to the piano – because it was a parlor instrument (ie. played safely at home in your parlor) – Minnie was on the road with her guitar, touring and winning guitar contests... carrying a knife in her boot for protection! She was WAY ahead of her time. Well-known for her guitar skills, she kept up with (and even surpassed!) many of her contemporaries – bluesmen. She had a huge impact on the blues and rock n' roll, and her songs have been covered by many famous artists, from Led Zeppelin to Bonnie Raitt. Here are some facts about Minnie, so you can be inspired too... enjoy!
Born Lizzie Douglas on June 3rd 1897 in Algiers, Louisiana.
She was the eldest of 13 brothers and sisters.
Called "Kid Douglas", she was a child prodigy on guitar and banjo (which she's said to have started playing at age 7!).
In her teens, she ran away and began busking on Memphis street corners.
She later joined Ringling Brothers Circus and toured the South playing music!
Her stage name "Memphis Minnie" was given to her by Columbia Records during her first recording session in 1929.
She was always a finger picker, never used a pick.
She often played in Spanish tuning (DGDGBD) using a capo, but also played in open D (DADF#AD) and standard tunings.
She often played with a partner and was married at least 3 times to accomplished blues guitarists, who would back her up with rhythm, while she always played the lead! They included:

Kansas Joe McCoy (a.k.a. "Kansas Joe") 
Casey Bill Weldon (of the Memphis Jug Band) 
Ernest Lawlers (a.k.a. "Little Son Joe")

Her first musical partner was Willie Brown, who said she was "a guitar king". And he played rhythm guitar, claiming she was the better player!
She was

 

as tough a drinker and blues singer as any man!
She recorded for forty years, almost unheard of for any woman in show business at the time (even now that's totally amazing!).
She took country blues into electric urban blues, paving the way for modern electric blues.
It's just breathtaking to think about the odds she was up against, being a woman in the music business back then (and we ladies are STILL fighting to get recognized as serious guitarists!). Still she was able to write and record over 200 songs from 1929 to the mid-50's (which, BTW, I am still working my way through...). I just love her guitar work, and I still learn something new each time I go back and listen to her records. Minnie was one of the most influential and pioneering female blues musicians and guitarists of all time. I'm so awed by this flamboyant character, who wore hot pants (see the picture!) with chiffon robes and bracelets made of silver dollars... and would spit tobacco! Stay tuned for more Memphis Minnie – I'll be adding more of her tunes to my sets soon! In the meantime...
Here's her classic song Me and My Chauffeur Blues:
And here's a clip from my DVD Women of the Country Blues, where I teach you how to play Memphis Minnie's Can I Do It For You. Check out the full DVD/download over at Stefan Grossman's Guitar Workshop, including more of Memphis Minnie's timeless songs, as well as some other fabulous guitar-playing ladies!
My recordings of Memphis Minnie songs (listen/buy on my MUSIC page or STORE!):
Read more about Memphis Minnie in this great book Woman with Guitar by Paul and Beth Garon!