I have gotten several invitations lately from family and friends to share my top 10 albums. Let's face it, I am never gonna post an album a day to my Facebook wall (sorry!). But I still wanted to find a fun way to share my favorite albums. So, I have created a new playlist for you on YouTube called "Erin's Favorite Albums"! The first installment includes 5 albums that were very influential early on in my musical life. I hope you enjoy, and maybe even find a few jems. These are all albums that I love from start to finish, every song, and in many cases are my favorite albums by some of my favorite artists!
Feel free to chime in with comments (below) about the playlist, or even what YOUR favorite albums are! Also don't forget to hit SUBSCRIBE, as I'll be updating this playlist from time to time (click the link below to go to YouTube to subscribe to our channel!).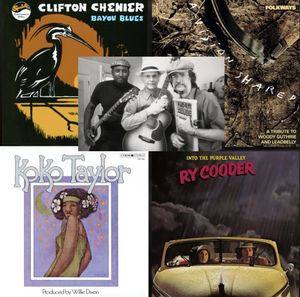 Clifton Chenier "Bayou Blues" (1955, Specialty) – Yes, I love Zydeco!!! (I don't know if you could tell...) Clifton Chenier is one of the early originators of Zydeco music, which arose from Cajun and Creole music in New Orleans – with blues, R&B and jazz influences  mixed in. Known as the King of Zydeco, you will not believe his virtuosity on the accordion on every song, as well as his heartfelt delivery, sometimes in French Creole, sometimes in English. This album is full of zydeco-style blues, R&B, two-steps and more. His son C.J. Chenier still leads his band, and will be performing at the New York State Blues Festival with us this weekend!
Ry Cooder "Into the Purple Valley" (1972, Reprise)  – Ry Cooder has been a big influence on me, I love his guitar playing (he plays mandolin too on this album!), and this great album just gets me every time. Ry's song selection and arrangements are cool and witty, with takes on traditional songs, as well selections from Johnny Cash, Woody Guthrie, and some more obscure songs including one by Joseph Spence, and the rollicking Caribbean-flavored "FDR in Trinidad". Love! 
Franklin, Harpe & Usilton "Hokum Blues" (1993, Patuxent Records) – Pretty much my favorite acoustic blues band ever (and yes, my dad is in it!). Franklin, Harpe & Usilton played 1920s and 1930s blues and ragtime in the Piedmont, Memphis, and St. Louis guitar-duet style. Rick and Neil provide the guitars and vocals, and Rick Usilton plays an assortment of drums and washboards. Listening to this album always reminds me of my childhood, seeing them play at festivals and house parties... and they were a big influence on the early version of my blues band the Delta Swingers. My bet is you haven't heard of this one – but you'll love it!
KoKo Taylor "KoKo Taylor" (1969, Chess) – This album was Koko's debut, produced by Willie Dixon – who had just discovered her – though she'd been performing around Chicago for over 10 years! Willie plays along with a fantastic band, and he also sings on the spine tingling duet Insane Asylum! I just LOVE her delivery, sense of humor, and spunk – there's nobody like her, and this is hands down her best album though she put out many great ones! Some of my favorite tracks are the funky Love You Like A Woman, I Don't Care Who Knows, and the best version ever of Tweny-Nine Ways. Look for some of these songs popping up in our shows soon!
"Folkways: A Vision Shared - A Tribute to Woody Guthrie & Leadbelly" (1988, CBS/Columbia) – A great collection of well-known artists doing versions of songs by two of my favorite songwriters: Woody Guthrie and Lead Belly. With artists as diverse as Bob Dylan, Fishbone, Emmylou Harris, Little Richard, John Mellencamp, Willie Nelson, Bruce Springsteen, Sweet Honey in the Rock, Taj Mahal, U2, and Brian Wilson. And of course there's one by Woody's son (and one of my fav's) Arlo Guthrie, as well as his old pal Pete Seeger!