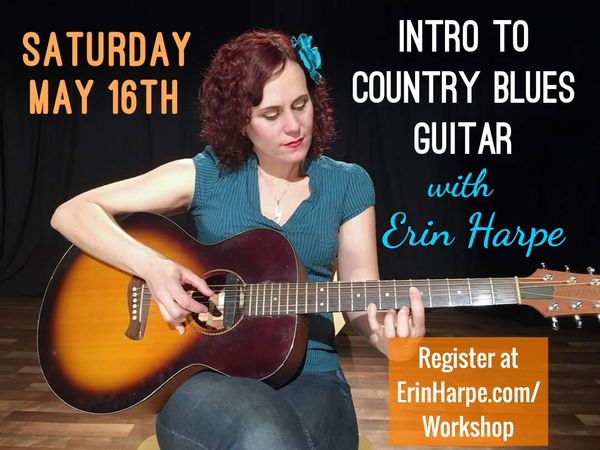 Guitarists! Take your guitar playing to a whole new level with my online Intro To Country Blues Guitar Workshop, coming up on Saturday, May 16th from 2-3:30pm (Eastern Standard Time). This is an online workshop, so you can attend from anywhere! In this fun 90-minute live streamed Zoom workshop, you'll learn basic country blues fingerpicking skills and techniques. This is an intro level class, great for guitarists that are already familiar with first position chords, who want to spice up their playing. It's going to be lots of fun, and you'll come away able to play a new song! 
Country blues guitar involves picking out a bass line with your thumb, while simultaneously picking the melody with your fingers, creating a full sound that's almost like two guitars being played at once. In this workshop, I'll share secrets about how to get your thumb and fingers coordinated, teach you some helpful exercises, and show you a song or two that showcase these techniques. Plus, so that you can continue your practice, you'll get downloadable tablature and mp3s for the exercises and songs from this workshop – free to all who attend! 
If you're new to fingerpicking guitar, or need to brush-up on the basics, this class is ideal for you! I'm keeping the cost low for this workshop, just $29. Register now at my website to reserve your spot! 
CLICK HERE TO REGISTER for my workshop!