Intro To Country Blues Guitar
Take your guitar playing to a whole new level with my Intro To Country Blues Guitar Workshop!  
The online workshop is coming up Saturday, May 16th, from 2-3:30pm (Eastern Standard Time), and it will focus on learning basic country blues guitar fingerpicking skills and techniques. The workshop will be recorded, so you can watch it any time after it's over, if you can't make the live stream time.
In this workshop, Erin will teach you how to fingerpick an alternating bass line with your thumb, while simultaneously picking out a melody with your fingers. Erin will share tips and teach you exercises to get your thumb and fingers coordinated, and teach you a couple of songs that showcase these techniques. You'll also get access to downloadable tablature and mp3s for the exercises and songs from this workshop, and the recording of the workshop.
Register for the workshop here:
There are no upcoming events right now.
After you sign up, you'll receive an email from me, followed by an email originating from Zoom with the link and password to join. I've also set up a reminder email which you'll get one hour before the start, which will again have the link and password (so you don't have to search for the other email!).
Zoom
The workshop itself will take place on Zoom (go to https://zoom.us/ to sign up for free).
---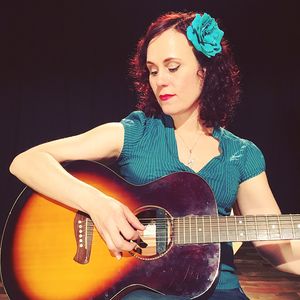 Benefits of learning fingerstyle country blues guitar:   
You'll be able to accompany yourself on solo guitar with a very full sound. It's almost like you have a whole band, your thumb playing the bass and rhythm, and your fingers picking out the melody, rhythm and solos. Master this technique and you'll be an entire band all by yourself!  
It helps build dexterity and finger independence
Strengthens thumb/finger independence  
Builds your understanding of rhythm
Impress your friends!  
It's also a great style to play with another guitarist, harmonica player, or in a band context