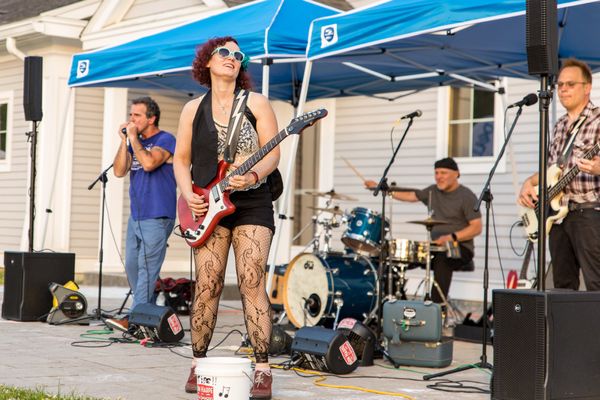 The Delta Swingers at Hopkinton Center for the Arts recently. Photo by Kevin Umlauf.
Hey there!
Hope you're doing well, and having a fun summer! 2022 is turning out to be our busiest summer yet – post-pandemonium – and it's been awesome to get out see some of you, and bring the good vibes to the people (especially given all the tough things going on in the news lately).
This week we're gearing up for some more touring – we'll be in NY, ME, RI, NH, IL, MN, WI, PA, MA, VT and TX in the next 6 weeks or so. Check out our updated summer schedule below for all the details!
Stay tuned for news about our livestream fundraisers – coming up after all the summer tour madness – for our upcoming trip to Memphis for the International Blues Challenge! Hope to see ya soon, and here's something to watch in the meantime, a video from our recent CBD show at The Porch here in Medford, MA. (Click on the pic below to watch!)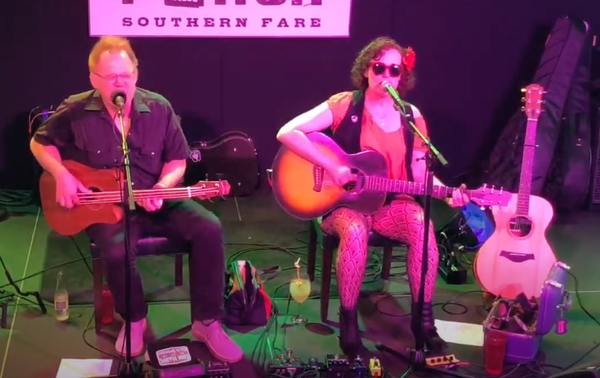 xoxo,
Erin
---
July Shows!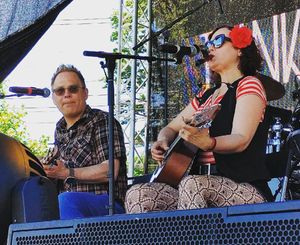 Sat. 7/16 • Country Blues Duo at Meadow Blues Coffee
This Saturday, July 16th we bring the Country Blues Duo to this well-known NY blues music spot, for an afternoon show out in the Blues Garden. Lots of great food & soft/hard drinks available, including of course, coffee! 3-5pm, $15 suggested donation.
Meadow Blues Coffee, 8 Greycourt Avenue , Chester, NY
---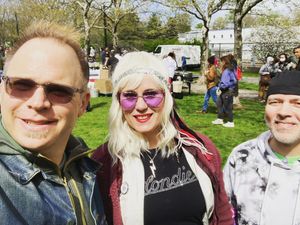 Sat. 7/23 • Lovewhip at Disc Golf Disco at Harry's Hill
Next Saturday, July 23rd, Lovewhip comes to Harry Brown's Farm for a fun, one-day overnight music & disc golf festival! $30 ticket includes tournament, concert, camping & fun! Music is from 8-11pm.
Harry Brown's Farm, 45 Abijah Hill Road , Starks, ME
---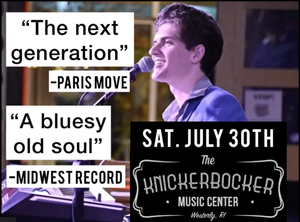 Sat. 7/30 • Country Blues Duo at The Knickerbocker Music Center
Saturday, July 30th will be a fabulous night of authentic roots & blues with Erin Harpe CBD and our VizzTone label mate Ben Levin at The Knickerbocker Music Center in Westerly, RI. Hailing from Cleveland, Ohio, the young piano player was just nominated for a Blues Blast Award! Not to be missed!!
The Knickerbocker Music Center, 35 Railroad Ave. , Westerly, RI
---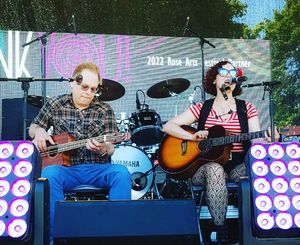 Sun. 7/31 • Country Blues Duo at Marty's Driving Range
Sunday, July 31st we'll be celebrating our Granite State Blues Challenge win with a Country Blues Duo fundraiser at Marty's Driving Range, BBQ, Blues & Brews! Sit outside at the tiki bar, or bring your own chairs and sit on the lawn. The GSBS will be there, and your tips will help us with expenses to get to Memphis in January! Free/tips appreciated, all ages, 3-6pm.
The Driving Range, 96 Old Turnpike Rd (Route 124), Mason, NH
---
Midwest Tour!
We're super excited to get back out on the road, for our first Midwest tour in several years. We'll be hitting festivals in WI & PA, and we'll be bringing acoustic and electric instruments.
Thu, Aug 4 • Navy Pier • Chicago, IL (Duo) 6:30pm
Fri, Aug 5 • Brothers Bar & Grill • Rochester, MN (DS) 7pm
Sat, Aug 6 • Blues on the Chippewa • Durand, WI (DS) 4:15pm set
Mon, Aug 8 • Musikfest • Bethlehem, PA (Duo) 5:30pm Zinzenplatz Stage
---
Back East!
Thu, Aug 11 • Weir River Farm Sunset Picnic • Hingham, MA (Duo) 5pm TICKETS
Fri, Aug 12 • Haig's Sports Bar • Manchester Center, VT (DS) 8:30pm
Sun, Aug 14 • Commonwealth Lounge at MGM • Springfield, MA (Duo) 7pm
Fri, Aug 19 • BPL Concerts in the Courtyard • Boston, MA (Duo) 12:30pm
Sat, Aug 20 • White Mtn. Boogie & Blues Fest • N. Thornton, NH (Erin & Jim backed by Anthony Geraci Band) TICKETS
Sun, Aug 21 • Women Who Rock Concert Series • Rockport, ME (Lovewhip) 5pm
---
Texas!
Aug. 26-28 • Midland Country Fair • Midland, TX (Duo)
---
Labor Day Weekend!
Sun, Sep 4 • Blues, Brews & BBQ Fest • Stratton Mtn., VT (DS) TICKETS
---
For more details go to ErinHarpe.com/shows!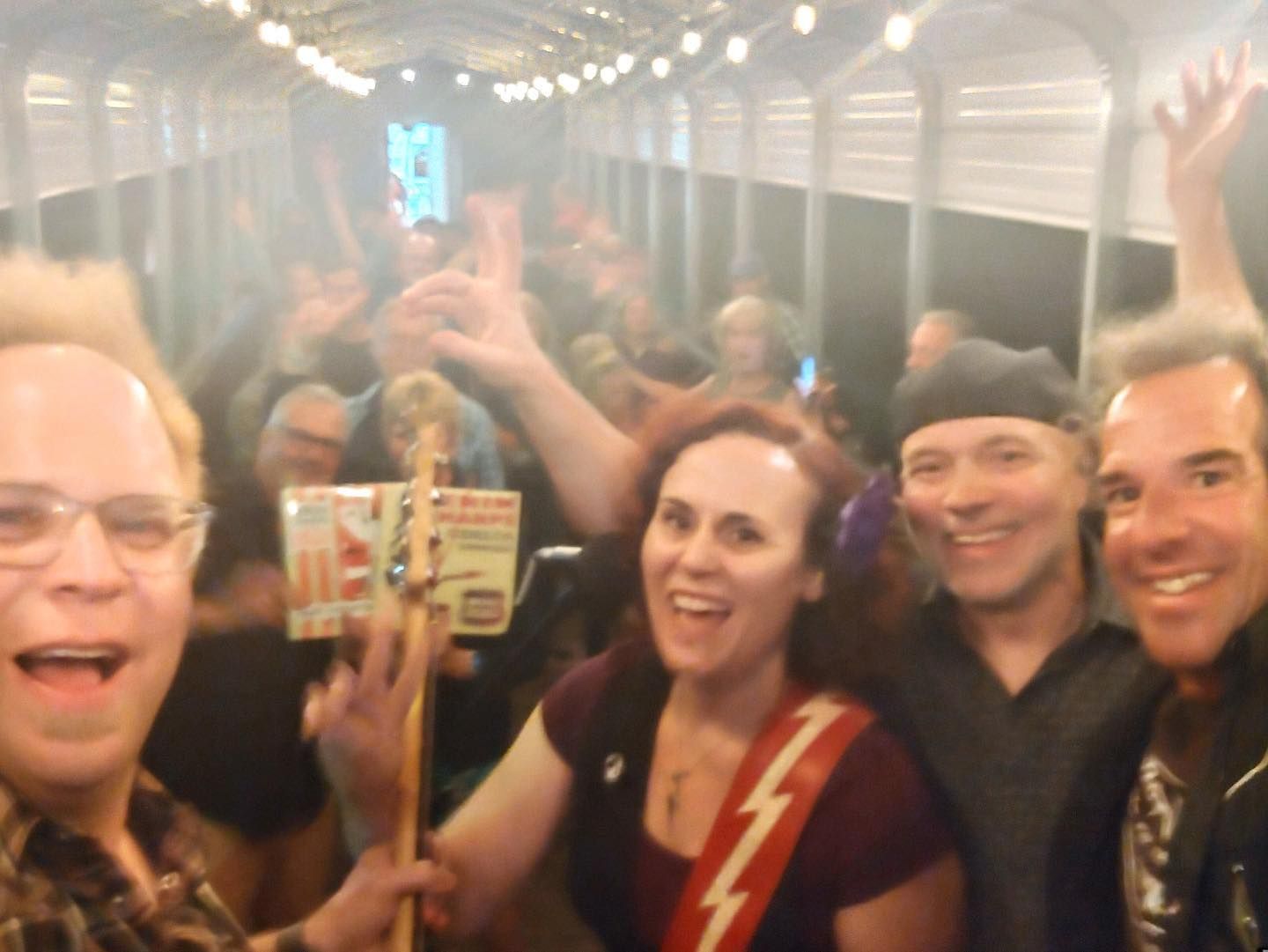 Here we are on the Cooperstown Blues Express – what fun! 🚂 🎶
---
 MUSIC – listen to
• ERIN HARPE •
• THE DELTA SWINGERS •
• & LOVEWHIP •
streaming!