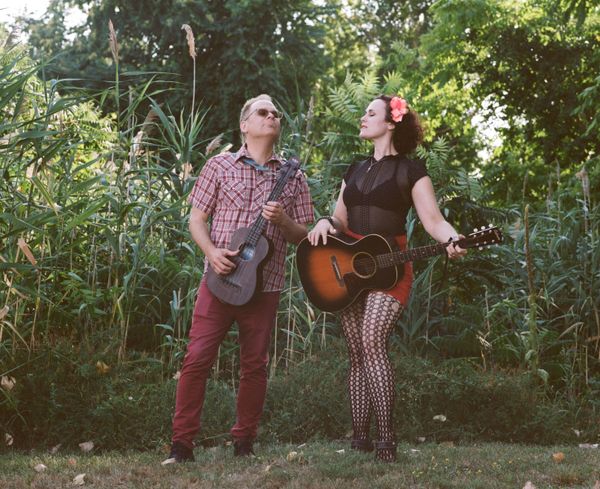 Stop and smell the New Year! Photo by Joe Harrington.
Happy New Year 🎉
I hope you had a wonderful holiday, and that you're happy and healthy as we go into the new year! Jim and I are doing well, we were able to visit some family over the holidays, which was really nice since we missed Thanksgiving (damn you, 'rona!). Fingers crossed that we'll all be able to see friends and family (and music) more in the new year...
That said, we're still stuggling with the post-holiday Omicron spike here on the East Coast, and it's been affecting live music. We found out yesterday that Friday's Delta Swingers/CBD show at One Longfellow in Portland Maine has been rescheduled for May 6th (if you already bought tix, they'll be good for the new date), and then our Lovewhip and CBD shows were also cancelled (to be rescheduled soon)!
So, the GOOD NEWS is, this Saturday January 8th we'll be doing a free livestream concert on Facebook (details are below)! Also listed below are some in-person dates around the Northeast.
🤞
I've also included some 2021 highlights, including some great concert videos of the Delta Swingers live at WBFO in Buffalo and on Don Odell's Legends TV show that you can watch right now!
Cheers to the new year!
xo,
Erin
• • • JANUARY SHOWS! • • •  
Saturday 1/8 • LIVESTREAM CONCERT • Watch anywhere! 
2pm (Eastern Standard Time). Click here to RSVP!
Our whole weekend of shows was cancelled (damn 'rona!), so we're going to do a Facebook Live concert for you on Sunday afternoon! We'll be sharing New Year's News, music, and an announcement about the return of our "Wi-Five Live" livestream concert series!
- - -
Saturday 1/15 • The Green Door • Stratton Mtn., VT (Lovewhip)
Bldg 11 Stratton Village Sq., Stratton Mountain, VT. 9:30pm-1am.
- - -
Saturday 1/22 • Cisco Brewery • New Bedford, MA (CBD)
1480 E Rodney French Blvd., New Bedford, MA. 8:30-10pm.
*Make sure to double check with the venue the day of show, in case of cancellations due to COVID-19.
• • • • • • •  
2021 Highlights...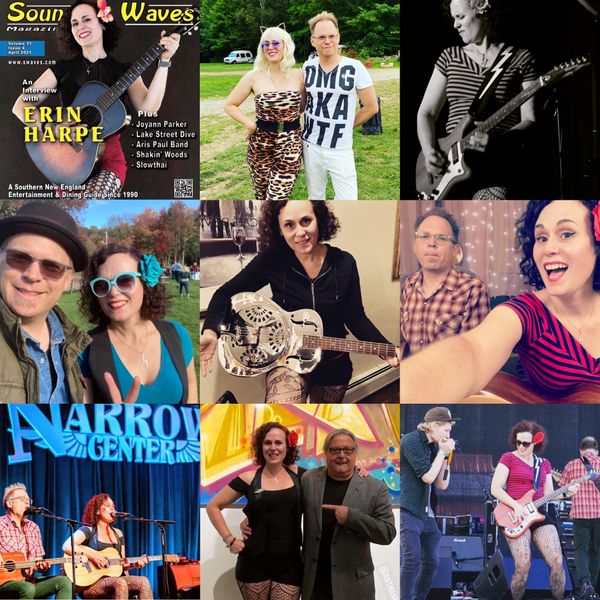 L to R: I was the Sound Waves covergirl in April; Lovewhip at Harry Brown's Farm; onstage at the Music Room Cape Cod (photo by Mark Rutledge); Blues at the Red Barn, Hingham MA; my new Dobro (thanks Stratton Mountain!); Livestreaming from home; CBD at the Narrows in Fall River, MA (photo by Kevin Umlauf); with Anthony Geraci; Stratton Mountain Blues Fest with Shane Sager on harmonica.
Some of the other highlights included our first Blues Blast nomination, another Boston Music Awards nomination, and our album MEET ME IN THE MIDDLE winning the New England Music Awards' "Album of the Year"! Thank you so much for all your votes!!!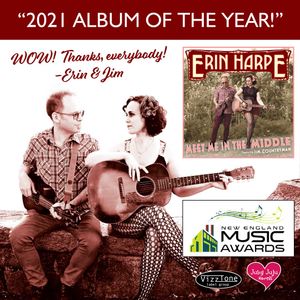 And a few more...
We played some great shows (despite the continuing pandemic), including two TV appearances that you can WATCH NOW – just click the pics below.
We shared the stage with some fantastic musician friends including

James Montgomery and Anthony Geraci & co.
The Delta Swingers – Shawn Meehan, Jason Novak and special guest Shane Sager. (These days it's a special treat just to play with our band!)

We hit a milestone with 20,000 followers on Facebook!
We're still getting started on building our "Erin Harpe - Blues" YouTube channel – we haven't hit 1,000 subscribers yet. There's tons of great videos and playlists there for you to watch already, and once we hit the magic number we'll be able to go live on YouTube!! So head on over to Erin Harpe – Blues and hit "SUBSCRIBE"! (Thank you!)
And enjoy these recent concert videos right now (click on the pics below to watch!):
Erin Harpe & the Delta Swingers at WBFO in Buffalo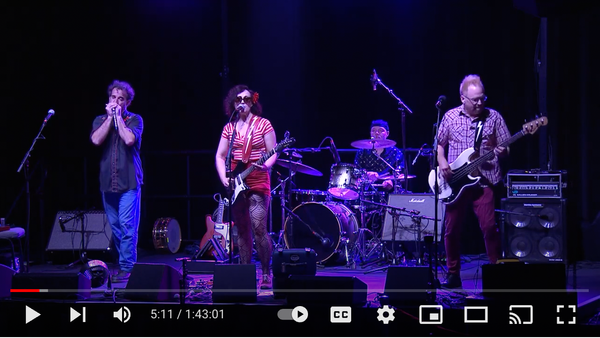 L to R: Jason Novak, Erin Harpe, Shawn Meehan, Jim Countryman.
Erin Harpe & the Delta Swingers at Don O'Dell's Legends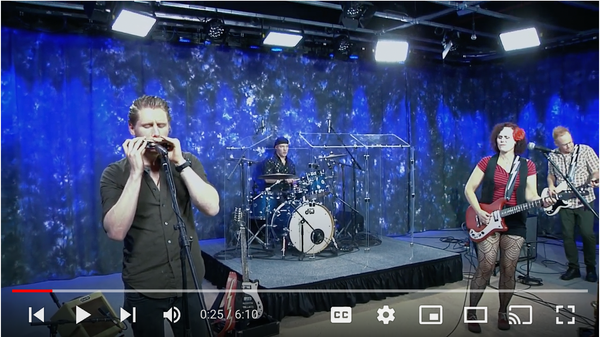 L to R: Shane Sager, Shawn Meehan, Erin Harpe, Jim Countryman.
UPCOMING SHOWS...  
2/4 • Lovewhip/Jim's Birthday Party at the Midway • JP, MA (Lovewhip)
2/6 • Stomping Ground • Putnam, CT (CBD)
2/8 • Tuesday Night All Stars • Brighton, MA (Delta Swingers)
2/11 • Theodore's • Springfield, MA (Delta Swingers)
2/12 • Daryl's House Brunch • Pawling, NY (CBD)
Call (845) 289-0185 to reserve your seat.
2/21 • The Den at Stowe • Stowe, VT (CBD)
2/22 • The Den at Stowe • Stowe, VT (CBD)
3/5 • The Widowmaker • Sugarloaf, ME (CBD)
3/6 • The Red Parka • Glen, NH (Delta Swingers)
3/10 • The Tralf • Buffalo, NY (Delta Swingers) TICKETS
3/11 • 443 Social Club • Syracuse, NY (CBD) TICKETS
4/2 • Jamey's House of Music • Lansdowne, PA (CBD) TICKETS
4/8 • Caffé Lena • Saratoga Springs, NY (CBD & Danielle Miraglia) TICKETS
5/6 • One Longfellow • Portland, ME (CBD & Delta Swingers) TICKETS
---
See our SHOWS page for our full schedule!