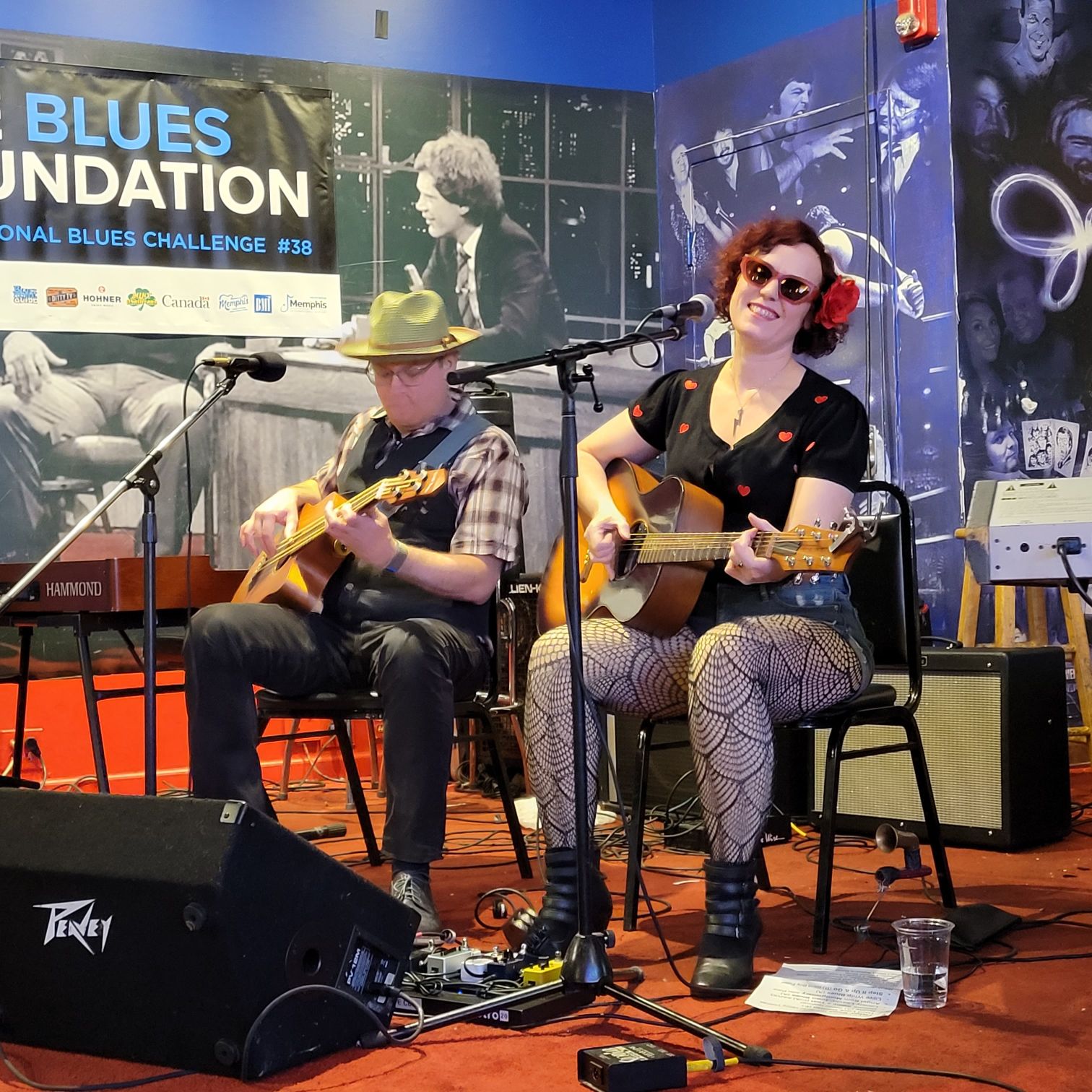 Photo by Ilana Katz Katz.
Let me start out by saying that no matter how far we got in the International Blues Challenge "competition", we've been having a wonderful time here in Memphis, and we've been so floored by the amount of love and support you've all given us! THANK YOU!!! 
As you may have guessed by our silence last night, we did not make it to the Finals. (Too bad, it would have been fun to be on the big stage at the Orpheum!) We were at the VizzTone showcase at around 1am when we found out, surrounded by our blues family and supporters, lots of love everywhere. Then we went home to our hotel and got some much needed rest. Luckily Beale Street stayed quiet despite the stuff we all heard in the news. We love Memphis and are very thankful to The Blues Foundation for putting on this event. This was our 6th and final time at the IBC (that is the limit). Jim Countryman and I have done it 3 times with our band the Delta Swingers, who made it to the Semi-Finals twice – including our very first time in 2011! I have also competed as a duo with Richard Rosenblatt on harp, and solo in 2019 – and made it to the Semi-Finals both times! That's 5 out of 6 times a Semi-Finalist – it's is a huge accomplishment, that I feel very proud of. It's helped my career – and my art – each time I've come here, even though it is always hard to get "knocked out". As they say, "we're all winners"! 
We have so much gratitude and want to say thank you to everyone who has supported us leading up to this, and throughout the week. We want to thank the Granite State Blues Society for all their love and support! The GSBS ladies have been just so great – Sharlene Hammond Labore and Debbie Meaderson were at every IBC set cheering us on, as they have done for many months leading up to this. We love you guys, and have loved hanging out this week! (Shout out to Rachael Barnard, wish you were here!) Also big thanks to our label VizzTone Label Group – Richard Rosenblatt, Amy Brat BratGirlmedia, Bob Margolin, and all our brother and sister musicians we got to watch and share the stage with this week (and will again tonight!). Check out my "Friends in Memphis" photo album for some fun snapshots! 
I want to send a HUGE THANK YOU you to everyone who supported our GoFundMe! (We would have had to hitchhike down and camp otherwise, LOL!) We made our goal BTW!! It means so much to us that you believe in us, and enjoy our music and what we do enough to contribute to our cause! You all are our family too, a big part of why we do what we do! 
Speaking of family, we couldn't have done this without the love & support of our family. Big thanks especially to our parents for their contributions (monetary and genetic, LOL)! We love you!!! 
To all our fans who came to see us in Memphis, you guys are so awesome!!! To look out every night and see your faces made us so happy and loved! And we know it's not easy to run around and not miss someone's set! While hanging out at our venue for countless hours waiting to go on (you have to have a representative at the venue until you play), Jim and I were able to switch off and catch sets by our New England pals Frankie Boy & The Blues Express, The Matt Swanton Band, and the One Dime Band. Shout out to all the great acts we met and watched from all over the country and even the world (Amsterdam, Australia, France)! We also want to thank all the new fans we met for the first time – for all the nice things you said after our sets, and while passing us out on the street on Beale Street. Hope to see some of you one last time tonight – we'll be playing a few songs again at VizzTone showcase at the Rum Boogie! It starts at 10pm. 
Jim and I are both really proud of our performances, and of all the work we put into them over the last month or so. We've had to think about how to take our show to a whole other level – and I feel we did! And we got a very positive response here in Memphis from everyone from fans of all ages to musicians to people in the industry – pretty much everyone we met. I can't wait to share that with each of you next time we see you at a show. 
We're excited to have another day to explore Memphis, and when we get home we've got so many things to be excited about, coming up this year! I can't wait to finally get to working on a new recording – a lot of what we worked on will be going into that too! We're also working on a some very cool tour plans – more on that soon… Love you and thanks for reading!
xo,
Erin
PS. We also ended up going to Graceland, here's my photo album!