• • • •   J U N E  🌼  N E W S   • • • •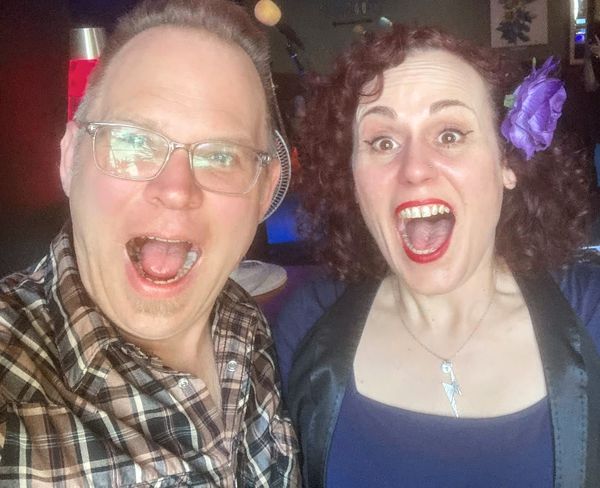 We won the 2022 Granite State Blues Challenge – we're goin' to Memphis!!!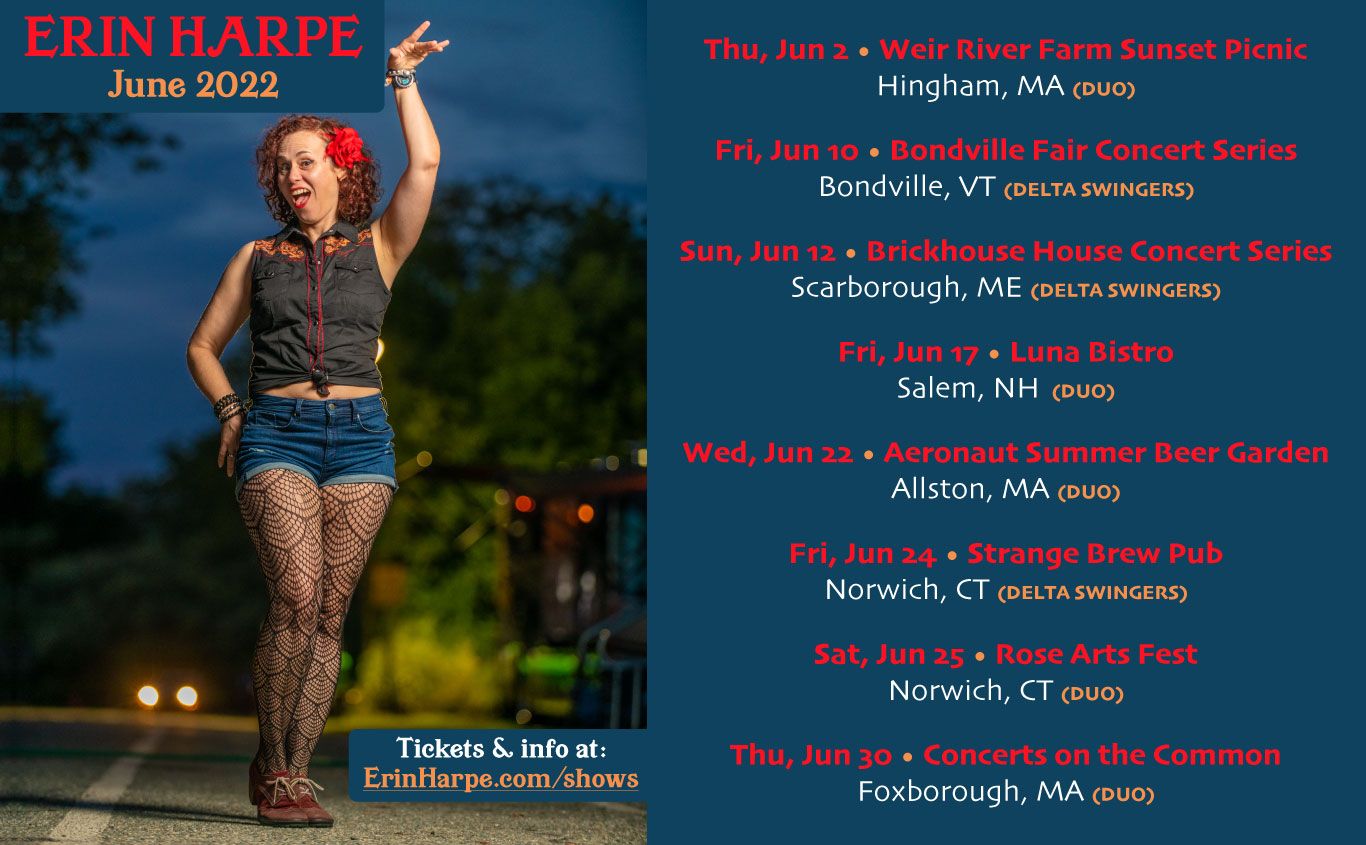 Photo by Seth Jacobson.
Happy summer!⛱️
For the first time since the Panic at the Disco began in 2020, we're excited to be gearing up for a busy tour season! Check out the latest updated schedule below, with stops all over New England (CT, MA, ME, NH, NY, RI, VT), as well as stops in IL, MN, PA, TX, VA and WI – including festivals, concert series, and the Delta Swingers on a TRAIN!! And I hope to see some of you out there!
I've also got a few fun things to share with you this month as you ease into summer!
👁️ First, a little light reading:
A brand new, enlightening interview I did recently!
And a new review of my classic album with my dad – Delta Blues Duets – from the UK!
📺 Then, feast your eyes & ears:
Brand new video – Lonnie Johnson's "Winnie the Wailer" – which we recorded recently with our good friend Frank Matheis (TheCountryBlues.com/Living Blues)!
Hope you enjoy, and thanks as always for your support!
xo,
Erin
---
New Interview!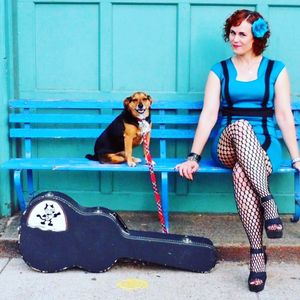 I was recently interviewed by Michael Bange in St. Louis for his blog Notes from the Purple Ape Studios. We talked about my musical roots, background, influences, advice for those starting out, and more interesting tidbits. I think it came out well and is a great read. Here's a little bit of his introduction, click the link below to read the whole interview! 
"Now Erin's singing is not the usual style you think of when you think of the Blues. But it's a beautiful sound, which is a pleasure to listen to. Erin can put the emotions into the songs so much that you can get the real feel of the song. On top of being excellent guitarist and an amazing singer, Erin is also a great entertainer. Whether you are at one of her shows to just listen to great music, or to get up on the dance floor and boogie the night away. Erin Harpe is the complete show."
---
Blues In Britain!
Erin & Neil Harpe: Delta Blues Duets (Juicy juju)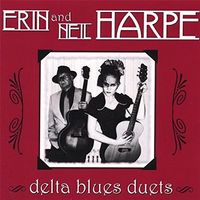 Daughter and father duo Erin and Neil Harpe boast a back catalogue of collective achievements as to be the envy of any blues household. Neil Harpe's first recordings date back 1972 but his true passion and "day job" is that of collecting and restoring vintage acoustic guitars, especially the niche brands such as Stella and Galiano that were used by the early blues pioneers like Charlie Patton and Willie Brown, becoming an authority on such instruments. Surrounded by such music, it was inevitable that Erin would succumb to the blues, which she has done in a big way and, along with her band The Delta Swingers, has collected many awards and accolades (particularly in her Boston/New England region) in addition to opening for Buddy Guy, James Cotton and ZZ Top.
First released in 2008 but due reappraisal, this set opens with "Bye Bye Blues", a song written early in the 20th century by "Ragtime" Henry Thomas. This pretty much sets the tone: two acoustic guitars interweaving, along with cleverly arranged vocal harmonies. "Called You This Mornin" sees the duo alternate verses, Erin takes the lead for Memphis Minnie's "Chauffeur Blues", "Kokomo Blues" again has Erin to the fore on the Mississippi Fred McDowell number, with deft resonator slides decorating the piece. "Fishin' Blues" sees the pair return to the works of "Ragtime" Henry Thomas, featuring lovely harmonies over the chorus. "In My Girlish Days" sports a set of lyrics containing lots of "down home" references much loved of early blues artists: similarly "Mississippi Delta Blues" nails that familiar acoustic blues style on this Willie Brown number. And there's the much-covered "Nobody Loves You When You're Down and Out", the Mississippi Sheiks' "Stop and Listen Blues" and a closing take on Lonnie Johnson's "Winnie The Wailer".
If you're a fan of acoustic blues then you'll find this a faultless set of classic songs, nicely sung and matched with equally ornate accompaniment that stays faithful to the original versions. Easier on the ear than those old 78s.
Written by Russ Cottee, in the current issue of Blues in Britain (May 2022, #245).
---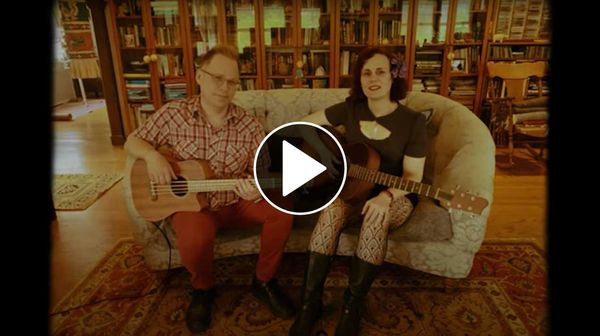 ---
• • • •   S U M M E R  🌼  T O U R   • • • •
Thu, Jun 2 • Weir River Farm Sunset Picnic • Hingham, MA (Duo) TICKETS
Fri, Jun 10 • Bondville Fair Concert Series • Bondville, VT (Delta Swingers)
Sun, Jun 12 • Brickhouse House Concert Series • Scarborough, ME (Delta Swingers)
Fri, Jun 17 • Luna Bistro • Salem, NH (Duo)
Wed, Jun 22 • Aeronaut Summer Beer Garden • Allston, MA (Duo)
Fri, Jun 24 • Rose Arts Fest Kick-Off @ Strange Brew • Norwich, CT (Delta Swingers)
Sat, Jun 25 • Rose Arts Fest Main Stage • Norwich, CT (Duo)
Thu, Jun 30 • Concerts on the Common • Foxborough, MA (Duo)
Fri, Jul 1 • Hopkinton Center for the Arts • Hopkinton, MA (Delta Swingers) TICKETS
Sat, Jul 2 • The Cooperstown Blues Express • Milford, NY (Delta Swingers)
Join us for this three-hour "Rockin' Party By Rail"! Reservations suggested, email cooperstownbluesexpress@gmail.com or call (607) 432-2429 or (607) 353-8030.
Wed, Jul 6 • Jumpin' in July Concert Series • Plattsburgh, NY (Delta Swingers)
Sat, Jul 16 • Meadow Blues Coffee • Chester, NY (Duo) TICKETS
Sat, Jul 23 • Disc Golf Disco at Harry's Hill • Starks, ME (Lovewhip)
Sat, Jul 30 • The Knickerbocker Cafe• Westerly, RI (Ben Levin + CBD) TICKETS
Sun, Jul 31 • Marty's BBQ Blues & Brews • Mason, NH (Duo)
Thu, Aug 4 • Navy Pier • Chicago, IL (Duo)
Fri, Aug 5 • Brothers Bar & Grill • Rochester, MN (Delta Swingers)
Sat, Aug 6 • Blues on the Chippewa • Durand, WI (Delta Swingers)
Mon, Aug 8 • Musikfest • Bethlehem, PA (Duo)
Thu, Aug 11 • Weir River Farm Sunset Picnic • Hingham, MA (Duo)
Fri, Aug 19 • BPL Concerts in the Courtyard Series • Boston, MA (Duo)
Sat, Aug 20 • White Mountain Boogie & Blues Festival • North Thornton, NH
(Women in Blues w/Anthony Geraci) TICKETS
Sun, Aug 21 • Harbor Concert Series "Bad Ass Women Who Rock" • Rockport, ME (Lovewhip)
Aug 26-28 • Midland County Fair • Midland, TX (Duo)
Sun, Sep 4 • Blues, Brews & BBQ Fest • Stratton Mountain, VT (Delta Swingers)
Sat, Sep 24 • John Jackson Piedmont Blues Festival • Woodville, VA (Duo)
---
ErinHarpe.com/shows for tickets, info & updates!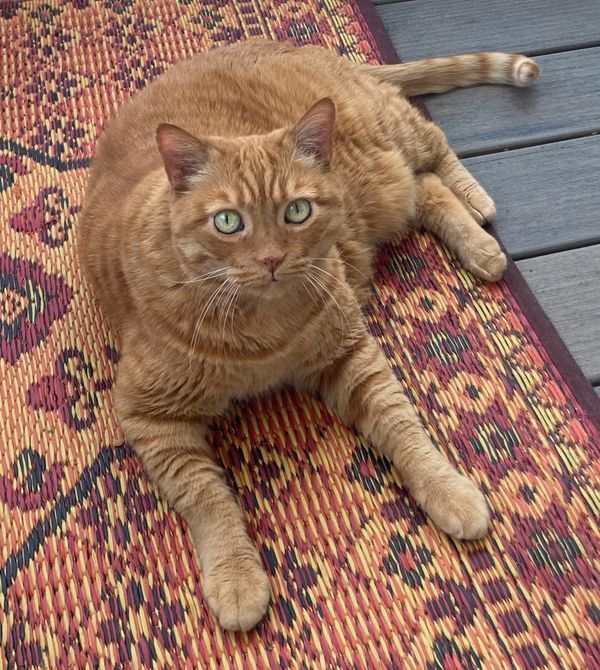 Elwood says "hi", from the back porch!
---
 MUSIC – listen to
• ERIN HARPE •
• THE DELTA SWINGERS •
• & LOVEWHIP •
streaming!