• • • •   S E P T E M B E R  🌻  N E W S   • • • •
Quick summer tour recap...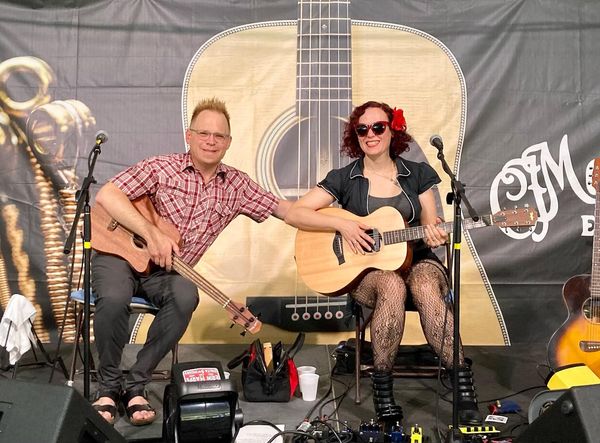 CBD on the Martin Guitar Stage, our second day at Musikfest in Bethehem, PA.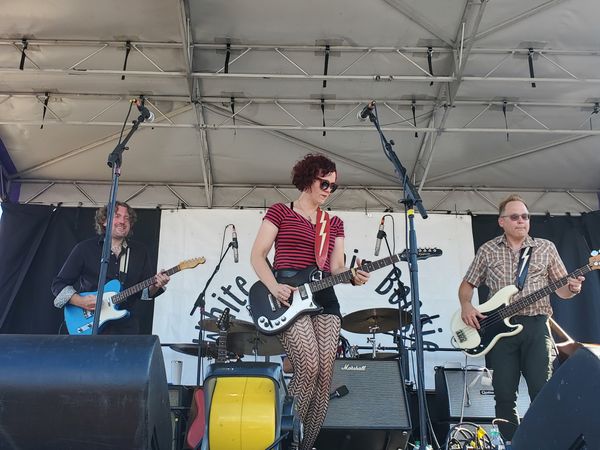 White Mountain Boogie & Blues Festival. Been wanting to play this fest for a while! We had a great time jamming with Anthony Geraci's band, including Barrett Anderson (pictured). Photo by Dottie Meek Geary.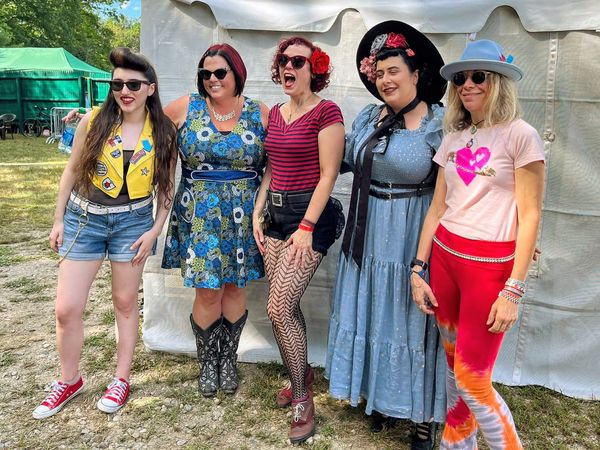 Fabulous ladies of the White Mountain Boogie & Blues Festival! Veronica Lewis, Washboard Breezy from Reverend Peyton's Big Damn Band, moi, Davina of Davina & the Vagabonds, and Ilana Katz Katz. Photo by Paul Loranger.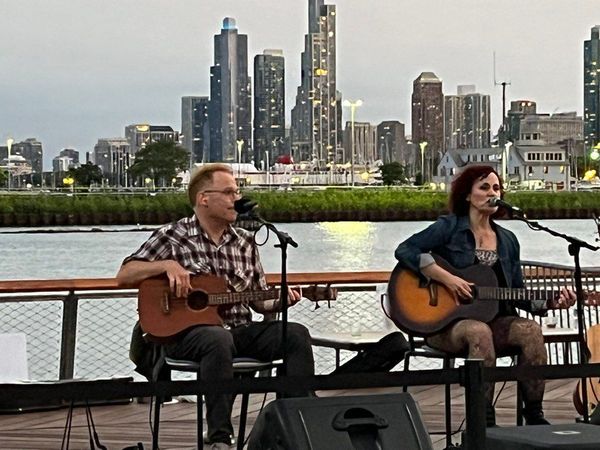 CBD onstage at Navy Pier with the Chicago skyline as the backdrop. Pretty perfect! It was great to see good friends, like Donna Herula, who took this awesome photo.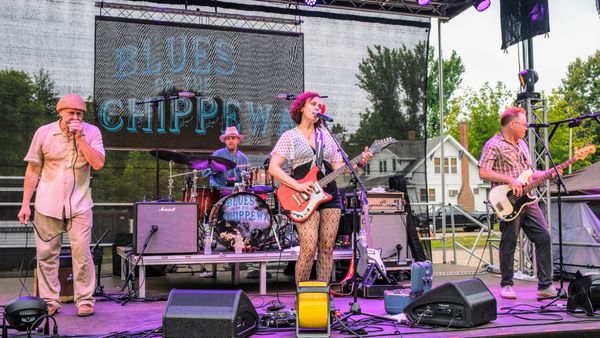 The Delta Swingers at Blues on the Chippewa in Wisconsin – such a great festival and great people! We had a blast playing two shows with our Midwest special guest Delta Swingers, Joe Filisko on harp and David Kosces on drums! Photo by Mike O'Brien.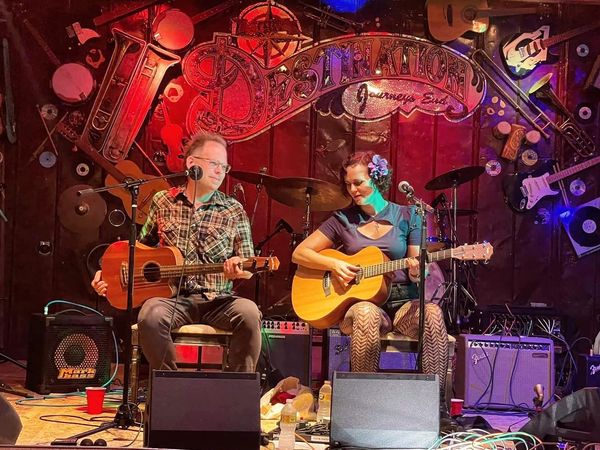 The Country Blues Duo onstage at The Destination in Midland, TX – at a Greater West Texas Blues Society event. We also had fun as featured performers at the Midland County Fair!
Howdy, friends! 🤠
Yeehaw! Just got home from Texas!! It feels like we've been almost everywhere in the past few weeks – it's been a whirlwind of fun shows, friends, and sitting in planes and vans, from the east coast to the midwest to west Texas! We played some great festivals, saw some of you, met some really amazing musicians, and logged quite a few miles. Jim and I even went to our first rodeo! (More pics below!)
Coming up we have a busy month, with more festivals and outdoor shows, as well as a Zoom livestream concert you can watch from anywhere! The details are below, plus a quick fall preview with ticket links!!
Boogie on, and hope to see you soon!
xoxo,
Erin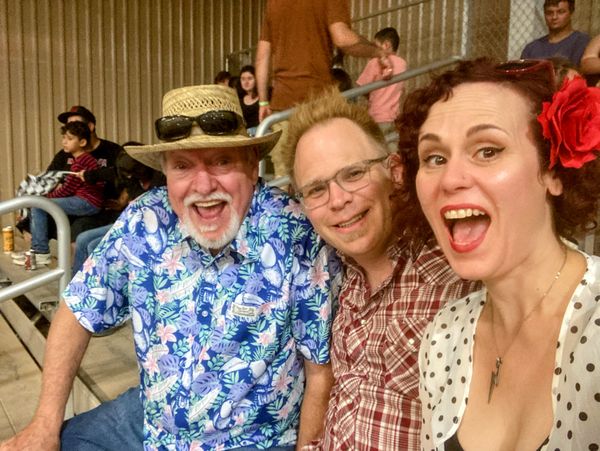 Our first rodeo, at the Midland County Fair with our friend Craig from the Greater West Texas Blues Society!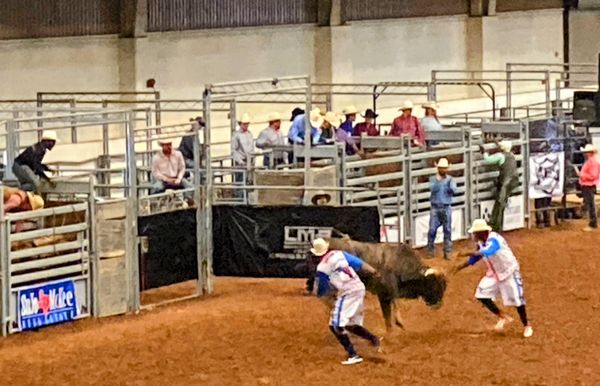 These badass rodeo clowns were staying at our hotel!
---
September Shows!
Blues, Brews & BBQ Fest
Erin Harpe & the Delta Swingers return to this fun outdoor Labor Day Weekend festival, featuring blues, local craft beers & BBQ in southern Vermont! 
Stratton Mountain Resort, Stratton Mountain, VT. 11:30am-6pm, our set is from 2-3:30pm.
$25 • GET TICKETS
---
Jamaica Plain Music Festival
We can't wait to return to this awesome, free, all ages music festival with Lovewhip! We're on at 5:30pm, featuring special guest Sistah Nancy on sax! 
Pinebank Baseball Field (near Perkins St. near the Pond in JP, MA). 12-7pm.
---
HeatherFest 26
Erin Harpe CBD will be appearing at HeatherFest – along with many of your favorites – for a day of music, dancing & friendship! Get there early!! Tickets are $35 (cash only), available at the gate. 
Heather's Backyard, 65 Freeman St., Norton, MA. 1-9pm.
---
Livestream - "Music My Mother Would Not Like"
Erin Harpe Country Blues Duo returns to the small screen to be part of this multi-artist livestream appearance on the long-running show "Music My Mother Would Not Like" with Bruce Swan (from radio station WSFM in Asheville, NC)! Our friends Valerie and Ben Turner of Piedmont Bluz join us for an evening of country blues! 
Online – Livestreaming on Zoom – from WSFM (Asheville FM 103.3), Asheville, NC. 
Registration (which is free) is required – register NOW! REGISTER HERE
---
Berkshire East Mountain Resort
Lovewhip hits the stage at the mountain's Crazy Horse Patio for a free, all ages show. Bring your mountain bike and your dancin' shoes!
Berkshire East Mountain Resort, 66 Thunder Mountain Rd, Charlemont, MA. 
---
Archie's Barbershop
We're excited to be coming back to the "Barbershop" with the Country Blues Duo! The concert is free, but you MUST reserve your seats (up to 2) by emailing: info@acousticblues.com. 
The Archie Edwards Blues Foundation, 4502 Hamilton St., Hyattsville, MD. 8pm.
---
John Jackson Piedmont Blues Festival
Erin Harpe Country Blues Duo comes to Virginia for a festival honoring the wonderful Piedmont blues picker, singer, and songster, John Jackson, who Erin grew up watching and listening to in Washington DC!
Eldon Farms, 4432 Sperryville Pike, Woodville, VA. -
---
Advance Tix for Upcoming Shows!
The Ganja Grail • Starks, ME  TICKETS
The Press Room • Portsmouth, NH  TICKETS
the Burren Backroom • Somerville, MA
(Mark your calenar, ticket link coming soon.)
Blues at the Red Barn • Hingham, MA  TICKETS
The Bull Run Ballroom • Shirley, MA  TICKETS
---
Full schedule at ErinHarpe.com/shows!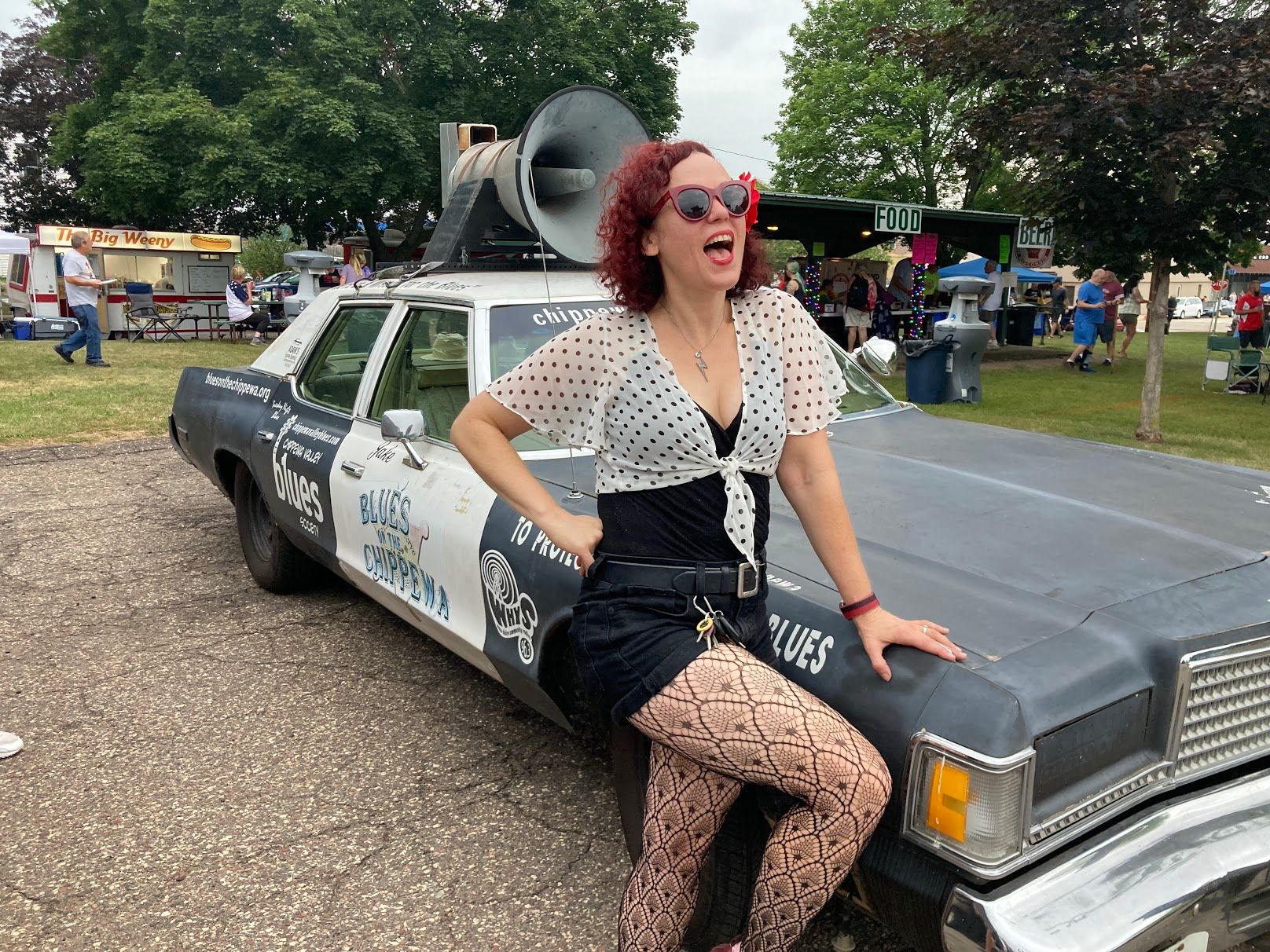 💋 XOXO – from the Blues On The Chippewa "Bluesmobile"! ❤️📣🚓🎶
---
 MUSIC – listen to
• ERIN HARPE •
• THE DELTA SWINGERS •
• & LOVEWHIP •
streaming!