• • • • • •   M A Y  🌺  N E W S   • • • • • •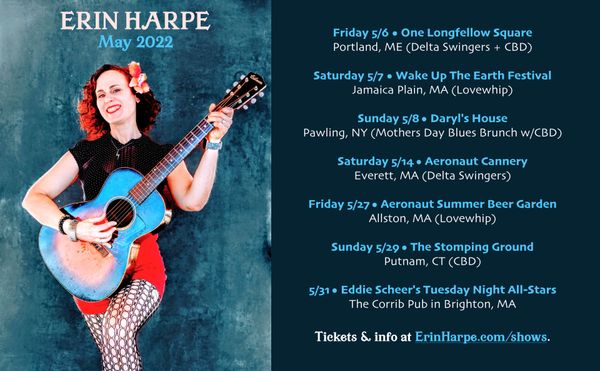 Photo by Joe Harrington.
Hello there, darlin's!
Happy May! Back before the pandemic, May usually ushered in our busy touring season, though that hasn't been the case these last couple years for obvious reasons... This year, however, we're very grateful to be gearing up for a busy live gig schedule for the spring and summer (and beyond), with new dates being added all the time! We're excited to be doing some traveling outside New England as well. Below I've got the show highlights for this weekend, some recent pics (scroll down to see Elwood with his tongue out, LOL), and a Spring/Summer Tour Preview! Hope to see you out there!!
xo,
Erin
---
This weekend!
Fri., May 6th • One Longfellow Square
One Longfellow Square, Portland, ME
A fabulous night of "Boogie, Blues & Beyond" with Erin Harpe & the Delta Swingers at our fav Portland venue! Our Country Blues Duo opens the show with songs from our award-winning new album MEET ME IN THE MIDDLE (NEMA "Album of the Year")! GET TICKETS!
Sat., May 7th • Lovewhip @ the Wake Up The Earth Festival
Sun Stage, Jamaica Plain, MA
Join us for this free, all ages outdoor fest that takes place in the Southwest Corridor Park at Stony Brook T Station on the Orange Line. Lovewhip's set is at 3pm on the Sun Stage (corner of Lamartine and New Minton Streets). Weather permitting (rain date is Sunday, but we wouldn't be there for that...).
Sun., May 8th • Mothers Day Blues Brunch
Daryl's House, Pawling, NY
Erin Harpe Country Blues Duo returns to Daryl's House for a special Mothers Day Blues Brunch! 12pm, all ages, free admission. Tables are already "sold out", but you can still get a "standing room only" ticket (for free) here.
---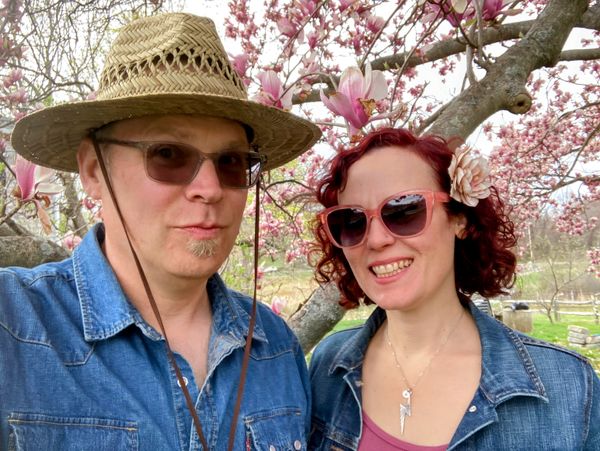 SPRING/SUMMER TOUR PREVIEW!
Sat, May 14 • Aeronaut Cannery • Everett, MA  TICKETS
Fri, May 27 • Aeronaut Summer Beer Garden • Allston, MA (Lovewhip)
Sun, May 29 • The Stomping Ground • Putnam, CT (duo)
Tue, May 31 • The Corrib Pub • Brighton, MA
Thu, Jun 2 • Weir River Farm Sunset Picnic • Hingham, MA (duo)
Fri, Jun 10 • Bondville Fair Concert Series • Bondville, VT
Sun, Jun 12 • Brickhouse House Concert Series • Scarborough, ME
Thu, Jun 30 • Concerts on the Common • Foxborough, MA (duo)
Fri, Jul 1 • Hopkinton Center for the Arts • Hopkinton, MA
Sat, Jul 2 • Cooperstown Blues Express • Milford, NY
Wed, Jul 6 • Jumpin' in July Concert Series • Plattsburgh, NY
Sat, Jul 16 • Meadow Blues Coffee • Chester, NY (duo)
Sun, Jul 31 • The Driving Range • Mason, NH (duo)
Thu, Aug 4 • Navy Pier • Chicago, IL (duo)
Sat, Aug 6 • Blues on the Chippewa Festival • Durand, WI
Mon, Aug 8 • Musikfest • Bethlehem, PA (duo)
---
ErinHarpe.com/shows for tickets, info & updates!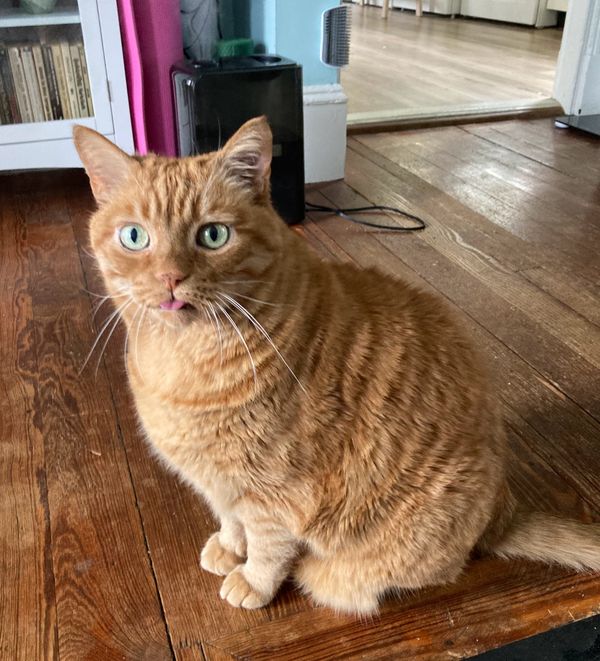 Elwood says "😛"!