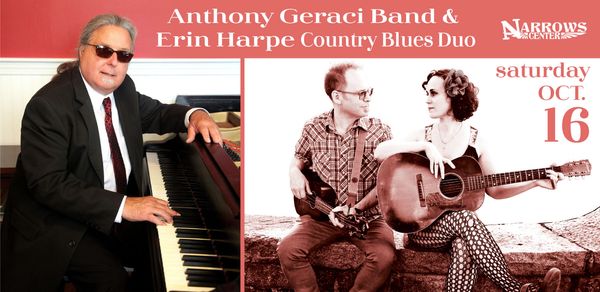 🍂 Happy October! 🍂
There's a bit of a chill in the air, as my favorite season of the year rolls in, FALL! I hope you're able to get out and enjoy it – and if you're in the Northeastern US, you might be able to catch a show in person... We'll be coming to Kingston NY, Newmarket NH, and Fall River & Hingham MA with the Country Blues Duo this month, including some exciting shows with the award-winning Anthony Geraci Band! We're really excited to be doing our first big show with him at The Narrows on Saturday, October 16th! As well as a few more fun shows!
Annnndddd, I know lots of you aren't in those areas, so I'd like to invite you to join us on Thursday, October 21st for Music & Conversation – an online event! We purposely scheduled it early – 2:30pm EST – so hopefully some of our European friends can attend! Love to have you there, it'll be lots of fun!
Following are all the details, hope to see you (or hear from you) soon!
xoxo,
Erin
O C T O B E R   L I V E   M U S I C
Sat, Oct 9 • Field + Supply Market at Hutton Brickyards
Erin Harpe Country Blues Duo (CBD) plays from 3-6pm! This all ages, weekend-long outdoor event is from 10am-6pm. Field + Supply is a modern interpretation of a traditional arts & crafts market, bringing together 175+ makers, food & drinks, live music & more! Tickets $15, all-day pass $20 (kids 12 & under free).
Hutton Brickyards, Hutton Brickyards 200 North St., Kingston, NY.
---
Sun, Oct 10 • Granite State Blues Challenge
Erin Harpe CBD will be competing in the Granite State Blues Challenge! Featuring The Barrett Anderson Band, Jerry Duggar, Frankie Boy & the Blues Express, No Shoes, Erik Ray, and Miss Vee & A Badass Band. Come on down and cheer us on! $10 donation at the door. 2pm.
The Stone Church, 5 Granite St, Newmarket, NH.
---
Sat, Oct 16 • The Narrows with Anthony Geraci
We're very excited to be opening for the Anthony Geraci Band with Erin Harpe CBD – AND I'll be joining the band to sing a couple of songs as well! Should be a great night!! $23 advance, $26 day of show.
Narrows Center for the Performing Arts, 16 Anawan Street, Fall River, MA.
---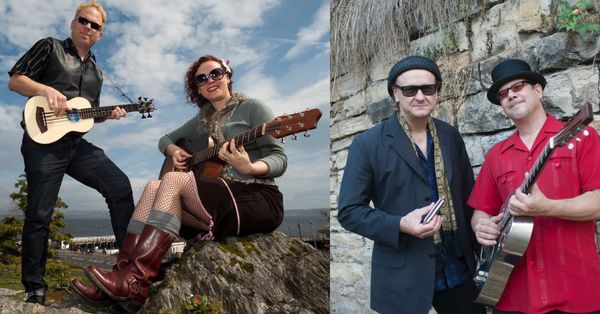 Thu, Oct 21 • Music & Conversation with Joe Filisko & Eric Noden
Watch anywhere! Joe Filisko & Eric Noden present "Music & Conversation", an online event featuring Erin Harpe & Jim Countryman CBD! We'll talk and share music with our good friends Joe & Eric, another fantastic acoustic blues duo. 2:30pm (Eastern Standard Time), $20.
---
Sat, Oct 23 • Blues at the Red Barn with Anthony Geraci
Erin Harpe CBD joins the Anthony Geraci Band for an afternoon of blues, outside on this beautiful, family-friendly farm with animals, gardens, food truck & beer vendor. All ages! Adults $30, kids $15 (2 & under free). 7pm. (Rain date Sunday 10/24.)
Weir River Farm, 140 Turkey Hill Ln, Hingham, MA.
---
And we have lots more coming up, see our SHOWS page for full schedule!