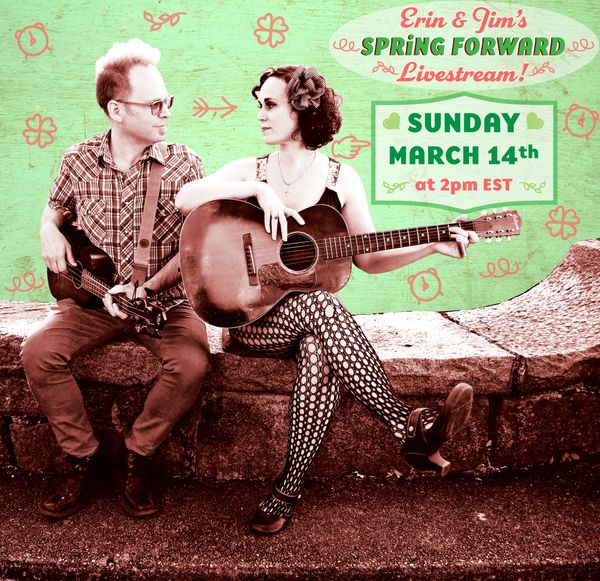 Our next live-stream concert is coming up Sunday, March 14th at 2pm!
March Merch Madness Sale!
This month we're having a special MARCH MERCH MADNESS SALE! Check out our store to get 30-70% OFF until March 31st! Get great deals on all our albums CD's & LP's, as well as all t-shirts, masks, hats, kazoos, posters, stickers, koozies & all other merch!
Save on Erin Harpe Merch here!
---
Spring Forward with us Live on 3/14!
Sunday, March 14th – the day the clocks spring forward – we're celebrating with a special Facebook Live concert featuring the Country Blues Duo! Join us from 2-3:30pm (EST) for Erin & Jim's Spring Forward Livestream. Just don't forget to set your clock forward before bed the night before, or you might miss it! To be safe, be sure to RSVP at our Facebook event, that way you'll get the reminders!
We can't wait to see you there!
---
MEET ME IN THE MIDDLE Album News: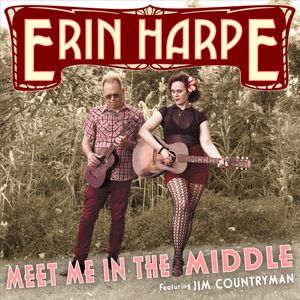 "One can play the roots country blues differently, louder or faster, to try to impress and dazzle. But nobody today plays and sings it better."
-Frank Matheis, Living Blues
"'Meet Me In The Middle' is one of those albums that has bags of quality, a generally cracking range of tracks and an old-school, acoustic blues mastery that is seldom found these days."
-Iain Patience
"⭐⭐⭐ Erin Harpe is an unmannered singer and assured guitarist, with an assertive touch and a firm grasp of country blues idiom"
-MOJO
Click here to see all of our full album reviews!
We're still on the charts! A few weeks ago, Meet Me In The Middle moved up to #5 on the Relix/Jambands.com Radio Chart, where it has stayed for the past three weeks! Our other top chart milestones are:
In November, we debuted at #13 on Billboard's Blues Chart!
#5 on Relix/Jambands.com Radio Chart
#7 on iTunes Top US Blues Albums
#9 on North American College & Community Radio's Top 30 Blues Chart
#8 (Top 50 Contemporary Blues Albums) & #15 (Top Blues Albums) on Roots Music Report's Charts
#17 on Living Blues Radio's Chart
THANKS for your support, & special thanks to our DJ friends, spinning the album all over the world!
---
Here are the links where you can find the new album ⬇️⬇️⬇️
LISTEN on your favorite streaming service (click the logos):