Join us this Sunday for our Mother's Day Livestream!
Happy May!
This month we are excited to have slightly more things going on than last month! (See below for more info!)
First, some very exciting news, our album Meet Me In The Middle was nominated for an Independent Blues Award, and you can help us win by voting! 
Then this Sunday, 5/9 is our Mother's Day Livestream Concert!
Also, Jim and I just got our vaccines(!), and with venues slowly opening we have actually booked a few in person shows starting this month!
And there's still time to book a backyard concert with us!
All the details are below... We hope to see you soon, either online or in person! Sending love, music & virtual hugs!
xoxo,
Erin (& Jim)
---
Independent Blues Awards Nomination!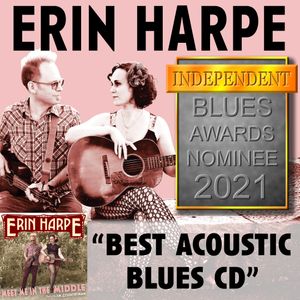 I'm thrilled to announce that our new album, Meet Me In The Middle, has been nominated for "Best Acoustic Blues CD" this year in the Independent Blues Awards!
It's a big honor! There are quite a few well-known artists in my category, so I could really use  your help to win! How?
VOTE (it's easy!)
SHARE the link!
Thank you!!! And sending a big thank you to Richard L'Hommedieu and everyone at Making a Scene for the nomination!
---
Mothers Day Livestream this Sunday!
This Sunday, May 9th, join us for the Mothers Day edition of our monthly virtual in-studio concert, featuring the Country Blues Duo! Join us from 2-3:30pm (EDT) for Erin & Jim's Mothers Day Livestream. We'll celebrate ALL THE MOMS!
You can also watch on Boxford Cable TV!
---
Upcoming Live Show News!
Sun. 5/30 | Erin Harpe CBD | Marty's Driving Range | Mason, NH
Sat. 7/10 | Erin Harpe CBD | Daryl's House | Pawling, NY   TICKETS 
Check out our Shows page for details and tickets!
---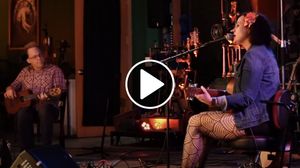 Watch Last Sunday's Performance!
You can now watch the replay for last Sunday's Erin Harpe CBD performance for the Hugs For Lizbeth Foundation! We had a lot of fun, and it was a beautiful venue and great production!! Plus we raised some money for a great cause – and by the way they are still accepting donations.
Thanks to all who tuned in live and already gave donations!!
---
CBD Backyard Sessions!
Hire us for a Backyard Concert! If you live within a few hours of Boston, and want to host small, socially distanced outdoor concert, get in touch! We have dates available through the September.