More exciting album news: writer Frank Matheis, who is both a friend and a great scholar of the Piedmont blues, has reviewed MEET ME IN THE MIDDLE in the January issue of Living Blues Magazine(!!!) – and he has some very nice things to say! (He also co-wrote a fantastic book about "DC's Homemade Blues"  with Phil Wiggins called Sweet Bitter Blues.) Here's the review, including some background, and his judgement that this album is HOT!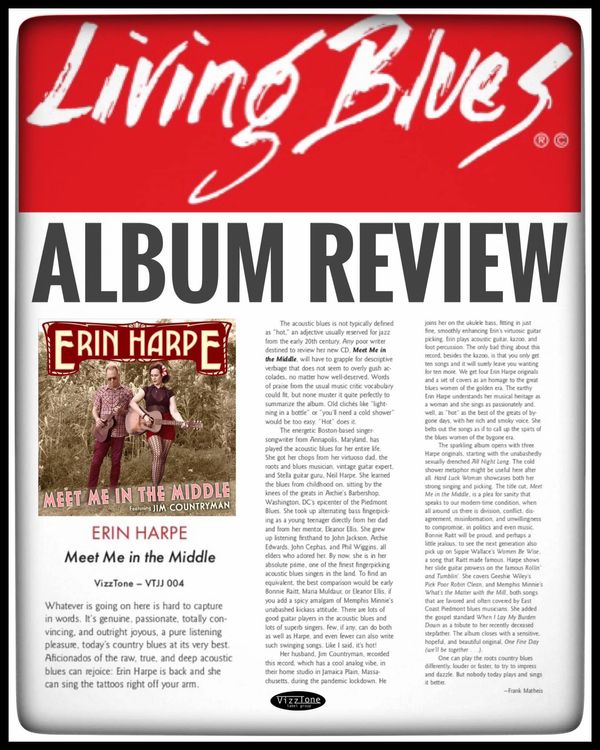 From Living Blues:
"One can play the roots country blues differently, louder or faster, to try to impress and dazzle. But nobody today plays and sings it better."
Whatever is going on here is hard to capture in words. It's genuine, passionate, totally convincing, and outright joyous, a pure listening pleasure, today's country blues at its very best. Afficianados of the raw, true, and deep acoustic blues can rejoice: Erin Harpe is back and she can sing the tattoos right off your arm. 
The acoustic blues is not typically defined as "hot," and adjective usually reserved for jazz from the early 20th century. Any poor writer destined to review her new CD, Meet Me In The Middle, will have to grapple for descriptive verbiage that does not seem to overly gush accolades, no matter how well-deserved. Words of praise from the usual music critic vocabulary could fit, but none muster it quite perfectly to summarize the album. Old clichés "lightning in a bottle" or "you'll need a cold shower" would be too easy. "Hot" does it." 
The energetic Boston-based singer-songwriter from Annapolis, Maryland, has played the acoustic blues for her entire life. She got her chops from her virtuoso dad, the roots and blues musician, vintage guitar expert, and Stella guitar guru, Neil Harpe. She learned the blues from childhood on, sitting by the knees of the greats in Archie's Barbershop, Washington, DC's epicenter of the Piedmont Blues. She took up alternating bass fingerpicking as a young teenager directly from her dad and from her mentor, Eleanor Ellis. She grew up listening firsthand to John Jackson, Archie Edwards, John Cephas, and Phil Wiggins, all elders who adored her. By now, she is in her absolute prime, one of the finest fingerpicking acoustic blues singers in the land. To find an equivalent, the best comparison would be early Bonnie Raitt, Maria Muldaur, or Eleanor Ellis, if you add a spicy amalgam of Memphis Minnie's unabashed kickass attitude. There are lots of good guitar players in the acoustic blues and lots of superb singers. Few, if any, can do both as well as Harpe, and even fewer can also write such swinging songs. Like I said, it's hot! 
Her husband, Jim Countryman, recorded this record, which has a cool analog vibe, in their home studio in Jamaica Plain, Massachusetts, during the pandemic lockdown. He joins her on the ukulele bass, fitting in just fine, smoothly enhancing Erin's virtuosic guitar picking. Erin plays acoustic guitar, kazoo, and foot percussion. The only bad thing about this record, besides the kazoo, is that you only get ten songs and it will surely leave you wanting for ten more. We get four Erin Harpe originals and a set of covers as an homage to the great blues women of the golden era. The earthy Erin Harpe understands her musical heritage as a woman and she sings as passionately and, well, as "hot" as the best of the greats of bygone days, with her rich and smoky voice. She belts out songs as if to call up the spirits of the blues women of the bygone era. 
The sparkling album opens with three Harpe originals, starting with the unabashedly sexually drenched All Night Long. The cold shower metaphor might be useful here after all. Hard Luck Woman showcases both her strong singing and picking. The title cut, Meet Me in the Middle, is a plea for sanity that speaks to our modern-time condition, when all around us there is division, conflict, disagreement, misinformation, and unwillingness to compromise, in politics and even music. Bonne Raitt would be proud, and perhaps a little jealous, to see the next generation also pick up on Sippie Wallace's Women Be Wise, a song that Raitt made famous. Harpe shows her slide guitar prowess on the famous Rollin' and Tumblin'. She covers Geeshie Wiley's Pick Poor Robin Clean, and Memphis Minnie's What's the Matter with the Mill, both songs that are favored and often covered by East Coast Piedmont blues musicians. She added the gospel standard When I Lay My Burden Down as a tribute to her recently deceased stepfather. The album closes with a sensitive, hopeful, and beautiful original, One Fine Day (we'll be together…) 
One can play the roots country blues differently, louder or faster, to try to impress and dazzle. But nobody today plays and sings it better. 
–Frank Matheis
(See the article as it appears in Living Blues Magazine here: https://bit.ly/3bbcl0x)