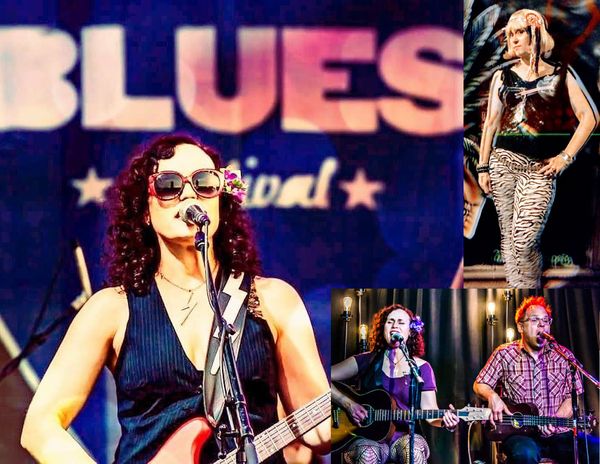 News from ERIN HARPE & the DELTA SWINGERS, LOVEWHIP, and ERIN HARPE CBD
---
It's April, and we're all home, so come live stream with us!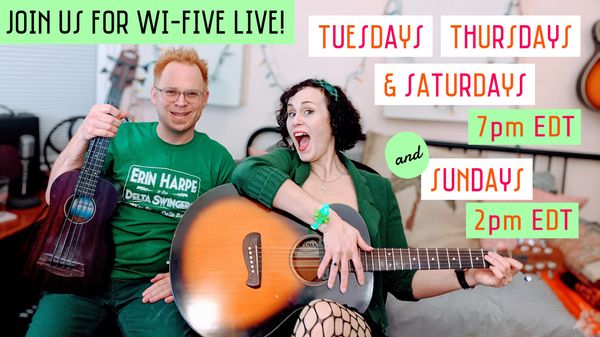 Hey there,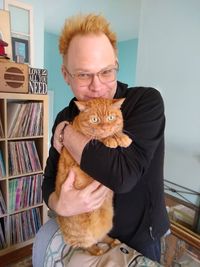 Hope you're doing okay! We're all fine, at the moment anyway. The worldwide Corona virus pandemic has us avoiding social gatherings, so for the time being I'm stuck at home here in Boston with Jim and Elwood the cat (who is loving this, by the way). We miss you all!
As you may have seen on Facebook, we started doing daily live stream concerts every day, right after all our gigs were cancelled for the next month and beyond. We wanted to be able to connect with you, and "going live" being the new thing, we wanted to try it. Well, we're happy to report that we loved going live, and we even made the Boston Herald because of it! Thanks to music writer Brett Milano for interviewing me. Check out this his article about musicians in this time of live streaming. (Thanks Satch Romano for the posting the pic below!) And I want to sincerely thank everyone who's been tuning in, commenting, and sponsoring our live stream shows!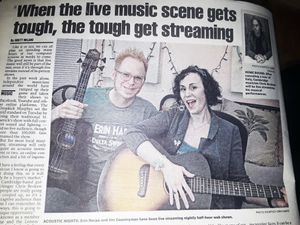 The good news is: we'll be continuing to live stream all month!
You can join us four times a week for our new, free online concert series, "Wi-Five Live". The schedule is Tuesday, Thursday, and Saturday evenings at 7pm and Sunday afternoons at 2pm. That's Boston time, so if you're in another time zone, we're on Eastern Daylight Time, but you can watch from anywhere. So far we've had people with us from all over the US, the UK and Iran! You can comment in and we'll respond live on the air! All concerts are free, but if you want you can sponsor us by sending a tip (any size, big or small, helps!).
The details for how to tune in are below, as well as a couple ways you can help. We hope to have more information soon about our upcoming dates, as things become more clear hopefully in the coming weeks. Until then, stay safe, stay home (if you can), and flatten the curve! Love you!
Hope to see you Tuesdays, Thursdays, Saturdays and Sundays, for music and togetherness! Come have some fun!
Love and music,
Erin, Jim & Elwood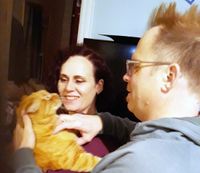 ---
NEW LIVE STREAM CONCERT SERIES
🎶🎙🎥WI-FIVE LIVE🎙🎥🎶
Our new online concert series is called "Wi-Five Live", named after the "wireless hi-five", which is a good greeting in this time of social distance. Don't know it yet? Tune into the show, and we'll show you!
WHEN:   
Tuesdays, Thursdays & Saturdays at 7pm, and Sundays at 2pm (Eastern Daylight Time).
WHERE:   
At our FB page:  facebook.com/ErinHarpe.blues

WAYS TO HELP:
• Sponsor our live stream:
        Venmo --> @ErinHarpe
        Paypal --> Paypal.me/JuicyJujuRecords
        (Send to "friends & family")
• Donate to MusiCares Covid Relief Fund and the Blues Foundation's COVID-19 Blues Musician Emergency Relief Fund - they help musicians in need.
Many musicians like us are applying for help through these and other funds, that are very generously looking out for us music makers. As more musicians apply, they continue to need to raise more money.
Thanks so much for your help! Thanks also going out to all you frontline workers out there, from doctors and nurses to all other kinds of essential workers.💗Lots of love going out to those feeling lonely, we can get through this together. 💗Stay in touch!!💗
---